During three weeks in the summer of 2016, I went to Bishkek, Kyrgyzstan to study Russian and to Kigali, Rwanda to visit a friend of mine. Here is the story from these trips with some pictures and some hopefully interesting information about these countries. 🙂
I arrived in Bishkek 0430 Saturday morning after a ten hour (including airport time) trip from Stockholm, via Istanbul. The airline Pegasus was much better than expected. Due to the ridiculously low price (Less than 200 euro for the whole way) I had expected terrible conditions like flinty seats, fascist-alike staff, cold food for 20 euro a piece etc. It was nothing like that, actually one of the nicest flights I have had for a long time.
I was met at the airport by a pick-up service and taken to my hotel (Hotel Ambassador). I normally don't do that. It is more fun (and cheap) to figure out myself how to go to the city but when arriving in a totally new city, that I didn't know much about, at 0430 in the morning I had chosen the lazy and comfortable way.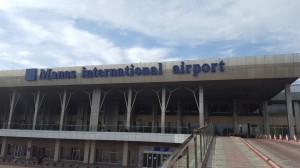 Welcome to Bishkek! (Photo taken at my departure).
The first two days (Saturday and Sunday) was spent resting and getting to know the city. I tried the Kyrgyz specialties Laghman and Beshbarmak but also Indian food at Suger and Spice Indian Café Bar and Mexican food at Obama grill. Cultural globalisation at its best. Obama grill actually had a big paper statue over President Obama so there was no doubt about who it was named after. I asked the staff for the reason but they didn't know.
Beshbarmak litterly means "five fingers" because the nomads ate it with – you guessed it – their fingers. It usually consists of horse meat, noodles and rather mild spices. Kyrgyz food is normally not hot spicy. Laghman also consists of noodles, meat and spices but it is different from Beshbarmak. There is a lot, a lot, a lot of meat in Kyrgyz food. Vegetarians and vegans might find it hard to get what they want. A third dish that I also liked was Plov (mutton or beef, rice, vegetables).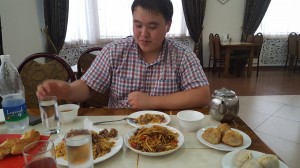 Eating Laghman and Plov with Azamat who works at Callan School.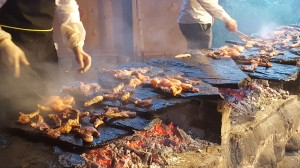 Here they prepare Beshbarmak in a traditional way over open fire at Supara restaurant. There you can also visit the traditional nomad tents, Yurts. Food is very good but be prepared to eat pieces of horse stomach.
If you want ordinary international fast food for a change, there are some local brands. Perhaps a couple of international mega companies would have some opinions about trademark infringement, I don't know. 🙂 BFC had very tasty burgers though. (By the way, in Tirana I have previously found Albanian Fried Chicken with similar logo…)
Mc Donals's and KFC… no, I mean Mc Dubai and Bishkek Fried Chicken.
Start of Russian course
Day three in Bishkek was the start of the Russian course at Callan School. I had previously studied Russian in St Petersburg (in 2010), Odessa (in 2015), Kiev, (in 2015 and 2016) and three days in Dnipro earlier this summer. Usually 2-3 weeks each time. So I should be very good by now but I forget a lot between the times. I soon realized that I like the teachers and the way they teach at Callan a lot. I had signed up for three lessons per day, each lesson eighty minutes. The first day I was a bit confused because I didn't know that I would get a new teacher after each break but it turned out to be very good. Altogether I had three different teachers during the whole time and they focused on different aspects of the language. I can highly recommend Callan school for those who want to study Russian. It is not expensive either… Unfortunately I took too few photos of the school environment.
After the first day of school I got access to my apartment. It was officially a shared apartment but no one else was there so I had it by myself. I didn't do much the first week except studying Russian, working a little bit with my writing, eating Kyrgyz food and relaxing. Not a bad week at all. 🙂 During this week I also went to a Bishkek football derby between two of the best teams in the Kyrgyz league, Dordoi and Alga. The regular stadium was under reconstruction so the game was played on a field in the outskirts of the city. Final score; 4-2 for Dordoi.
Where the beach meets the mountains…
Early Sunday morning I took a Marshrutka (mini van) from Bishkek to Cholpon-Ata on the north shore of lake Issyk-Kyl. The lake is known as the world's second largest alpine lake and one could see the powerful Tian Shan mountains on the other side of the main road from the beach. There was only about an hour's walk from beach to mountains which I believe is rather unique. If you can not make up your mind whether to have vacation on the beach or in the mountains, this is perfect. 🙂 The lake is also known because some scientists believe the Black Death, that killed over 30% of Europe's population in the 14th century, originated from there. At least the first confirmed death in the Black Death occurred there.
Just a few of many good pictures I have on the Cholpon-Ata surroundings. Such a beautiful place! As you can see on the first picture, the mountains are surrounding the beach…
One of the few things I did not like with Kyrgyzstan was traffic. It is by no means unique for Kyrgyzstan but it almost feels like you put yourself in mortal danger when entering a marshrutka. No seatbelts and constant stupid overtakings on bad roads. Yes, the drivers are skilled but that is no guarantee for safety. After a quick deceleration, another marshrutka hit our's from behind. As far as I could tell, no one was injured but I am glad I was not sitting in the back seat…
In Choplon-Ata, where I only stayed for two nights, I chose a hostel with shared bedroom. I always did that in the past but have become too comfortable and stayed a lot at hotels lately. It was good to feel like 35 again. 🙂 In hostels you also meet nice people to talk to. I spoke to a Dutch guy who was about to walk around in different mountainous regions of Central Asia for a few weeks. He had, among other places, planned to go to Afghan mountains close to a village held by Talibans with a local leaders that recently urged Talibans to kidnap more westerners. I think he changed that part of his plan…
So, after only one full day in Cholpon-Ata I took a marshrutka back to Bishkek, this time without accidents. A last day of Russian lessons and then an evening flight to Almaty, Kazakhstan. I had stupidly enough booked a flight this short distance even though I later learnt that taxi is both cheaper and quicker(!). Next time I know. Flying is however safer for sure…
A too short stay in Kazakhstan…
I went to Almaty, Kazakhstan, because at first I had planned to study Russian there instead for in Bishkek. I had therefore booked a flight from Almaty to Kigali for the second part of my journey. Now I only stayed for one single day there, and this day was mostly spent at the hotel since I had some work to do. Besides, I had booked the extremely cheap Hotel Renion halfway from the airport to the city center. Thus I didn't see anything of central Almaty. I have to go back… The hotel was ok, in relation to the price it was actually very good. The staff didn't speak any English – not a single word – but at least they did what they could to help and I do speak some Russian by now. 🙂
Be aware of unreliable taxi drivers from the Almaty airport. They sometimes claim there is a taximeter but there is not. When arriving at the hotel, they give you an unreasonable price and play nice by offering you a "discount". I made the mistake to find the taxi driver outside the airport. The drivers who try to get customers inside the arrival hall are in general more serious I think, but still be careful if you go there. Ask in the information disc for reasonable prices and /or try to ask for an approximate price before entering the taxi.
…And another short stop in Dubai
When going from Almaty to Kigali I had to change flight in Dubai, so I thought why not stay for a couple of days to see the place? The flight departed at 7.45 am from Almaty airport so there was a ridiculously early morning and a tired day in Dubai. After reading a lot about what you can and can't bring into Dubai I was a bit too careful. For example I throwed away my Pulimicort (medicine against asthma related coughing). There were however no problems what so ever to enter Dubai. The day was mostly spent at Dubai Mall, according to some information the largest shopping mall in the world in terms of surface. Outside it was 44 degrees centigrade…
Dubai views. The first one is from my hotel window.
The visit to the mosque
The second day in Dubai started with a taxi to Jumeriah mosque. It was just shortly after nine in the morning but the heat was already disturbing (And I normally love warm weather). After paying the twenty dirhams they let me wait in a big nicely decorated room together with maybe fifty other tourists. Arabian coffee and some unidentified sweet things were served. The woman who held the presentation was called Tracy and was from the UK but moved to Dubai for religious reasons as I understood it. Unfortunately I didn't speak to her afterwards. There are many questions I could have asked, like why she picked Dubai etc.
 Tracy's presentation was not so much about this mosque or about Islam in Dubai. It was more about Islam in general and its five pillars. There were not so much new information if you already know these stuff. By the end it got a little bit more interesting when she defended the ban on female Imams with the motivation that they wouldn't receive any respect from the male listeners. She also mentioned that woman have their menstruation every month, but failed to explain why that is relevant. Again, I should have asked more follow up questions.
She explained women's traditional black outfit and men's traditional white with local traditions in the Gulf states. But, she said, black suits women better in this climate. Again I am not really sure why. Altogether a nice presentation even though I had expected more stories with local connections. The visitors was urged to take as many photos as possible. No ban on that, which was nice.
Usually when I travel I walk as much as possible. I do that at home too. It was impossible in August in Dubai. 44-45 degrees made it unpleasant to be outside so I took a taxi between all the places I visited. It was even to hot to walk around searching for the nearest metro station.
After Jumeriah I took a taxi to Dubai Museum. They had some info about the history of Dubai. The city is not very old; it was founded during the the 19th century. Today there is the "old" Dubai and the new one with all the tall skyscrapers. Maybe it was because I was still tired from the early flight the day before (and from the heat) but I didn't enjoy the museum that much. Instead I took a new taxi to Dubai Mall. The evening was spent at the hotel working. The flight to Kigali (via Nairobi) were to leave 0225 am so I slept exactly zero hours the coming night.
Osh basar Vs Dubal mall – three very different countries
It is hard to imagine two more different – and at the same time similar – places than Osh basar in Bishkek and Dubai mall. Similar because of the commerce and supply of all imaginable goods. But yet different worlds. I am not sure what I prefer actually. The basar concept feels genuine, you make deals with local small entrepreneurs and you can find odd things that you might not find in the more mainstream standardized malls. Yet, Dubail mall is impressive and enjoyable. To visit both in one trip is a privilege.
Osh basar and a view of the water fall in Dubai mall.
Rwanda is a trip of its own, that had no connection to my trip to Central Asia and Dubai. I had planned to visit my friend Aimable there for some time. Now it happened that I did it just after the first trip without going home first. Kyrgyzstan, Dubai and Rwanda are of course three extremely different kind of places. Kyrgyzstan: Politically a post-Soviet semi-democracy but with traditional Central-Asian hospitality. Majority Muslim population but people are not too fanatic about religion. The alcohol habits are a bit russified…A lot of mountains and spectacular views. Dubai: Traditional Islam meets the modern world. Enormous creativity in a way only possible when you are bathing in oil money. 45 degrees hot in summer. Rwanda: A mainly Christian sub-Saharan mountainous country. Views over nature are not very different from in Kyrgyzstan. Rather well-organsied country it seems, at least compared to many other countries in the region. Yet, of course, with a dark memory of the 1994 genocide.
Here you can read about my week in Rwanda (Unfortunately in Swedish. I don't really know why I wrote this first part in English and the next in Swedish. Maybe a strange unconscious compromise with myself since at first I couldn't decide which language to use 🙂 )