Under denna resa spenderade jag tio dagar i Kirgizistan, följt av korta stopp i Kazahstan och Dubai, och en vecka i Rwanda. Läs om de tre första länderna (på engelska) här. Resan till Rwanda hade egentligen inget samband alls med resan till centralasien. De bara råkade ske efter varandra. Jag hade länge planerat att besöka min kompis Aimable, som doktorerar i Uppsala men även tillbringar en del tid med sin fru och sina barn i Rwanda.
Planet från Dubai till Rwanda avgick 0225. (För en kvälls/nattmänniska som jag är inte det tidigt, det är sent). Jag sover i princip inget på flygplan så det blev ingen sömn alls den natten. Lyckades ändå hålla andan uppe rätt bra första dagen i Kigali. Lekte lite med Aimables fem- och sex-åringar. (Riktigt härliga barn men precis som många barn i den åldern tröttnar de aldrig på att leka när farbror är trött. 🙂 ) Vi besökte en Rwandisk gudstjänst(!) som även var en begravning. Intressant var det. Jag brukar ofta resa ensam och lägga upp dagarna efter eget huvud, därför var det trevlig omväxling att mest följa med en infödd som bestämt vart färden skulle gå. Sen blev det rundvandring i centrum. Hamnade till slut framför matchen Arsenal-Liverpool på ett sportcafé. Sportcaféer har jag länge efterlyst i Sverige. Vi har bara sportpubar. Bra koncept. Att somna den kvällen var världens minsta problem…
Aimable med familj
Kizinga
En av dagarna var tanken att se lite av landsbygden i Rwanda. Färden gick till byn Kizinga där Aimable växte upp. Vi åkte förbi blöta risfält som efterhand övergick i torra teodlingar. Den asfalterade vägen blev såsmåningom en groppigare grusväg. Utsikten var bedårande hela tiden. Omkörningarna och trafiksäkerheten var dock enbart marginellt bättre än i Kirgizistan. Vad är grejen med att köra om exakt på vägens mittlinje samtidigt som man har möte? Det är väldigt populärt på många ställen i världen tycks det. Tre bilar får visserligen plats i bredd men det är knappt. Men det är ju Sverige som sticker ut här. Trafikfilosofin i Rwanda och Kirgizistan är normen även om man tittar på andra håll i världen. Nog om det.
Landsbygden i norra Rwanda
Att komma till byn Kizinga precis vid gränsen till Uganda var en intressant upplevelse. I princip ingen pratade engelska eller franska så det gick inte att delta i några konversationer. Det var dock lätt att inse ändå att man var föremålet för de flesta konversationer. Utlänningar kommer väldigt sällan till byn och när så sker är det oftast missionärer, ett yrke jag aldrig övervägt att söka mig till. Efter lite bergsbestigning och lite rundvandring i byn (där för övrigt Aimable verkade känna precis alla) var det dags att åka tillbaka till huvudstaden. Tydligen skulle ett gruppfoto med mig och de boende i huset sättas upp på väggen. Då förstår man hur unikt det är med besök utifrån där.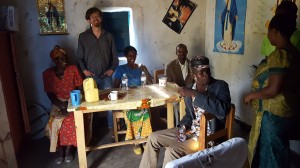 Gruppfoto i stugan
Det blev inte bara rundresor. Precis som när jag reser på egen hand satt jag också och jobbade, läste och skrev en del. Det är så jag vill ha det och i detta fall passade det bra eftersom Aimable också behövde jobba en del. Så två dagar tillbringades på ett kontor på Rubilizi campus, Department of Agricultural Economy, University of Rwanda. Det var där jag bl.a. skrev lejonparten av denna text.
Folkmordsmuséet – vidrigt men viktigt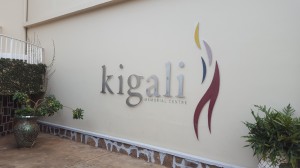 Ingången till folkmordsmuséet
Är man någorlunda intresserad av världen, politik, och historia är ett besök på minnesplatsen och muséet över Rwandas folkmord 1994 helt givet. Det var både intressant och känslomässigt jobbigt. Först var det en informativ del om vägen fram till folkmordet och hur det utfördes och motiverades rent politiskt. Det var den intressanta delen. Sedan följde en fruktansvärd del med individuella berättelser och foton. Ett rum var tillägnat barn som mördats. Man fick individuell information om "favoritmat", "bästa vän", "karräktärsdrag", hur just de barnen dog m.m. Ofta blev de ihjälhackade eller ihjälskurna. Detta gör det personligt på ett helt annat sätt än att läsa att ca 500 000-1 000 000 människor mördades. (Det exakta intervallet varierar, Forum för Levande Historia anger 800 000-1 000 000. Jag tror den stora osäkerheten och det väldigt breda intervallet hänger samman med bristen på folkbokföring, man kanske inte vet exakt hur många männniskor som fanns innan. Dock inte helt säker på att det är anledningen.)
Det är självfallet allt annat än en angenäm upplevelse men jag tror det är väldigt nyttigt att besöka ett sådant ställe. Annars är risken större för passivitet när felaktiga politiska idéer är på frammarsch. Det är dock svårt att vara passiv efter att besök på ett sådant ställe. Jag har även besökt Auschwitz och dödens fält i Kambodja, och samma sak gäller för de platserna. Jag tog nästan inga foton inne på muséet. Det är trots allt ingen vanlig "turistsevärdighet". Jag tror inte det rådde fotoförbud men det kändes konstigt att ta kort så jag avstod, med ett par undantag. Utanför muséet finns kvarlevor från otroliga 250 000 människor begravda. Och det är inte ens hälften av det totala antalet offer.
Nationalparken Akagera
Klockan var ställd på 0445. Den stora bilen med hyrd chafför väntade utanför huset 0520. Det gällde att vara tidigt ute eftersom Akagera nationalpark ligger drygt två timmars körning från Kigali och djuren ses bäst på morgonen eller tidig förmiddag innan det blir för varmt. Upplevelsen på plats beskriver sig egentligen bättre i bilder än i ord.
Giraffer, Zebror, Bonoboapor, flodhästar och Antiloper
Lite tips om ni åker dit. Ha med er tillräckligt med mat och dryck. Vill man se alla olika sorters djur, vilket man vill, så är man inne i Akagera ca fyra timmar. Lägg till fyra timmars körning tur och retur och i värsta fall nån halvtimme- timmes väntan på guiden vid entrén till parken så fattar ni. Man kanske inte heller har ätit nån brakfrukost klockan fem på morgonen…
Maten
En av de bästa sakerna med att resa tycker jag är att prova den lokala maten. Men det ska helst vara riktig lokal mat, inte turistanpassad. Det finns så klart undantag. Reser man i länder där man inte alls lirar med lokalbefolkningens uppfattning om "delikat" så kan Mc Donaldsskylten vara oerhört vacker, men oftast håller min grundprincip. Bor man hemma hos någon, som jag gjorde i Rwanda, så får man ju definitivt autentisk mat. (Sen kan man ju i och för sig fråga sig vad som är autentiskt. Ingen matkultur är homogen och oföränderlig. Även om inte alla är lika snabba som svenskar på att ta till sig nya matinfluenser så ska man vara försiktig med att sätta nationalitetsbeteckning på vissa rätter eller kombinationer av råvaror.)
Maten var riktigt god. Man äter mycket ris, potatis och banan i olika former. Tänk Flygande Jakob fast banan, ris och kyckling (med sås) separerat i olika byttor. Även mycket bönor förekommer. Betydligt mindre kött än i det kirgisiska köket. Den starka chilioljan Akabanga uppskattas storligen av denne gäst som köpte med sig två flaskor hem. En annan kulturskillnad, delvis kopplad till maten, är att ett hembiträde (gammaldags ord, men vad säger man på svenska idag?) bodde i huset och såg till att maten alltid stod på bordet vid den tiden som önskades. Mycket bra lösning för alla parter, givet den sociala, ekonomiska och kulturella kontexten.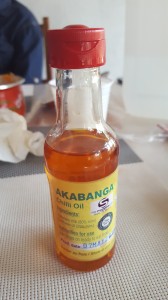 Transporter och språk
Allmänna transporter är inte så väl utbyggda men det finns mängder av mopedtaxis som för 5-20 kronor kör en vart som helst i stan. Kanske inte världens säkraste transportmedel, givet trafiken, men man får i alla fall alltid en hjälm och om man säger till att de inte ska dra på för full gas så följer de de instruktionerna. 🙂
Engelska och/eller franska funkar ofta hjälpligt, men inte alltid. Det nationella språket heter Kinyarwanda (pratas även till viss del i Uganda och Kongo-Kinshasa). Behärskar man inte det språket så kanske det inte blir några djupare diskussioner förutom med akademiker, studenter och f.d. studenter. I de senare fallen funkar engelska/franska utmärkt.
Alla språk har sina små egenheter som man inte tänker på när man är uppfödd med språket. Tydligen säger svenskar "precis" hela tiden. Det stämmer säkert, jag har aldrig tänkt på det men har hört det från flera utlänningar. I Rwanda hörde man hela tiden (jag menar VERKLIGEN hela tiden) nåt ljud som bäst skrivs ut som "Eiii". Det är också en slags instämmande konversationsmarkör, inte helt olikt "precis". Sådana småsaker kan man reflektera över när man har tid för det. 🙂
Jag ser nu med nöjdhet tillbaka på tre veckor i Kirgizistan och Rwanda (med korta stopp i Kazakhstan och Dubai). Nu är det ok att vara hemma en stund men snart längtar jag, som alltid, till nästa resa. Reseberättelsen om den första delen av min resa, den från Kirgisistan, Kazakhstan och Dubai finns på engelska här.